OSG-120 ORBITAL PIPE CUTTING MACHINE
OSG Orbital Pipe Cutting Machine is a new pipe cutting machine optimized by our company combining domestic and foreign similar products. This machine adopts AOTAI motor drive,super power, durable, Its compact design saves space, is lightweight and portable.

Range for pipe OD 10-120mm
online service
Tel:0086-577-86808798
OVERVIEW
OSG Orbital Pipe Cutting Machine is a new pipe cutting machine optimized by our company combining domestic and foreign similar products. This machine adopts Bosch motor drive,super power, durable, Its compact design saves space, is lightweight and portable. Ergonomic handle motor. Drive the cutting head to rotate more safely and conveniently. After cutting, The end face is absolutely vertical without burrs, Be welded directly, using special bevel blade may also be completed beveling, Guaranteed welding quality.
FEATURES
1、Cold cutting ,don't influence the pipe's material
2、Vertical incision without deformation, burr-free end surface
3、Simultaneous installation of cutting and beveling saw blades
4、Fast, cutting or bevel processing takes only a few seconds
5、High safety, the pipe is stationary, the saw blade planet rotates to complete cutting
6、AOTAI motor drive, super power, more powerful
7、Small size, light weight, suitable for workshop operations and field construction
8、Saw blade compatible with AXXAIR, +GF+, DCS and other brand pipe cutting machine

CAPABILTY
1、Pipe cut off
2、Pipe beveling
3、Cutting and beveling
Model

Working Range

Wall Thickness

rotating

OD mm

CS mm

SS mm

rpm

OSG-120

Ф10~120

≤12

≤7

80~120
Above parameters just for reference only, not acceptance criteria

Saw blade drive motor:
Brand: AOTAI
Electric Requirements: 220-230V, 50-60Hz, 1P
Power:2.0KW
Speed: adjustable
TOOLING
Material: M42
Standard: 2 cutting blades
Optional: beveling saw blade 30°, 37°, 45°
| | |
| --- | --- |
| | |
| Standard: cutting blade | Optional: beveling saw blade |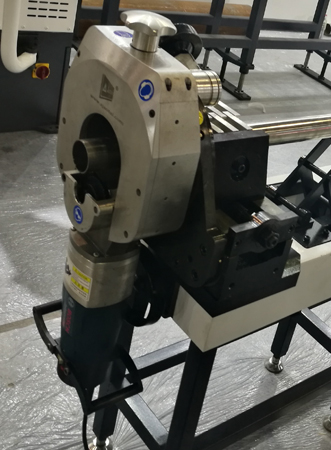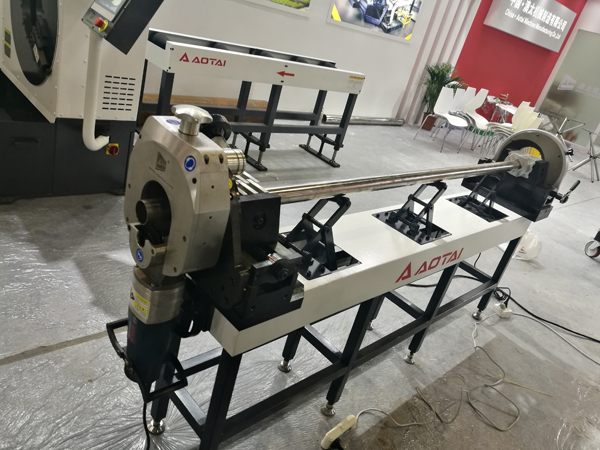 1.Tool selection
Standard with rip saw and fine saw,Fits pipe of different wall thicknesses,General rip saw are more suitable for cutting thicker tubes,fine saw suitable for cutting thin-walled pipe.
Inappropriate selection will result in blade heating. Reduce service life, or even bite-pipe phenomenon, deform the pipe
2.Rotating speed
Choosing the right cutterhead can improve the cutting performance and service life of the tool. Compared to the cutting stainless steel, the lower speed 80rpm is used, and the cutting carbon steel uses the higher speed 120rpm.
3.Cutting rotation direction
When the thin-walled tube 0.3-1mm, the tool rotates clockwise along the tube, which tends to cause deformation of the tube wall when the teeth engage the tube wall. The counterclockwise rotation of the tool (inverse planetary motion) can be avoided very well. This phenomenon
4.Cutting oil
The cutting machine can be processed without using any cutting oil, but the tool life will be greatly reduced.
Saw blade are consumables and their cost is high. In order to improve their cutting performance and service life, we recommend using cutting fluids during cutting. We choose non-toxic and harmless cutting oils, and use them to increase the tool life by 20-30%, if necessary before requisitioning
Welcome to our website! Please send your words at any time in the following form and ask us, we will contact you and provide you with the corresponding service as soon as possible. Please write in English.